Teacher Leaders
Building Capacity and Supporting Professional Growth Through Teacher Leadership
P.S. 120 has been building capacity throughout the building and supporting teacher professional growth through teacher leaders. Our teacher leaders stem from a variety of programs described in detail below.
Peer Collaborative Teachers:
The Dept. of Education's Teacher Career Pathways offers teachers positions that uniquely allow them to expand their reach beyond the classroom. One of those positions is the Peer Collaborative Teacher. Also known as "PCTs," P.S. 120's Peer Collaborative Teachers have demonstrated exemplary instructional expertise and dedication to professional growth. They support their colleagues through focused coaching, intervisitations, and designing meaningful opportunities for growth. This comes in many forms at P.S. 120, including leading grade or content area teacher teams and designing and facilitating other professional learning experiences. Listed below are just some of our PCT duties and responsibilities:
Focused Peer Coaching

Intervisitations

Professional Development Workshops

New Teacher Meetings

Model Classrooms

Administrative Support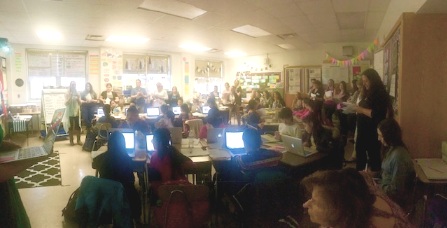 Anastasia Difino, a P.S. 120 Peer Collaborative Teacher, showcasing best literacy practices while hosting an intervisitation by teachers and staff of District 25 schools in her classroom.
Model Teachers:
Another Teacher Career Pathways position is the Model Teacher. P.S. 120's Model Teachers demonstrate strong instructional practice, a dedication to professional growth, and a strong understanding of their community's needs. Model teachers host intervisitations from colleagues in addition to sharing best practices with teams. P.S. 120 Model Teacher duties include:
High Quality Teacher Practice

Welcoming Environment for Colleagues

Specific Strategies for Instruction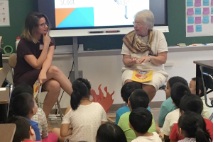 P.S. 120 Peer Collaborative Teacher Caroline Cregan hosting a visit into her classroom from former NYC Chancellor Carmen Farina.
Learning Partners Model Teachers:
P.S. 120 is a participating school with another Dept. of Education initiative, The Learning Partners Program. LPP is designed to promote interschool collaborative learning and leverage the rich reservoir of expertise that already resides within our school communities to improve the educational experience for all New York City students. Throughout the course of the academic year, our LPP model teachers along with administration participate in a series of biweekly school team meetings, monthly intervisitations, and other related educational development activities with our partner schools. Our LPP Model Teachers exhibit strong practices and host intervisitations during our meetings with the other two partner schools.
District 25 Cucchiara 3L's Model Teachers:
P.S. 120 has been fortunate enough to have been selected as a Maryann Cucchiara lab site school for District 25. Teachers and staff members across the district have been visiting our model teachers to observe best practices in engaging all learners in meaningful and effective close reads with complex text.
Algebra 4 All Model Teachers:
P.S. 120 has been implementing Algebra 4 All, a math initiative that focuses on improving student readiness for Algebra and high school math instruction while strengthening student capabilities and conceptual understandings in order to be successful. Several of our teachers have been trained with the program and are serving as model teachers for their teams.
Department Leaders:
We have identified leaders on each grade to facilitate vertical alignment in each discipline. Within their programs, teachers have common preps to accommodate team meetings.
Grade Leaders:
We have identified leaders on each grade to coordinate grade events and concerns with administration to facilitate active communication and organization.
Model Classrooms:
There is one classroom on every grade and discipline that serves as a model for expectations for the physical learning space.
SEL Committee:
This committee has representatives from every grade as well as guidance, parent coordinator, and school aide representation. The team meets every other week to discuss various ways to grow our work around SEL, analyze SEL data, and coordinate vertical and horizontal alignment.
Wellness Council:
This council consists of staff, parents, and students to discuss issues concerning physical and emotional wellness in our school community. The council meets 1 time per month.